Testimonials
Katie Foulser - I had kailey on loan for 3 months when she suddenly started bucking for no reason so I
decided to get Carole out to get her back checked. When Carole came up she explained that Kailey's pelvis was misaligned and after some treatment on her pelvis and her poll kailey seemed much better. She started cantering off as soon as I turned her out. We have had 2 treatments so far and I would definitely recommend Carole to anyone considering having their horse checked out. She is reliable and friendly.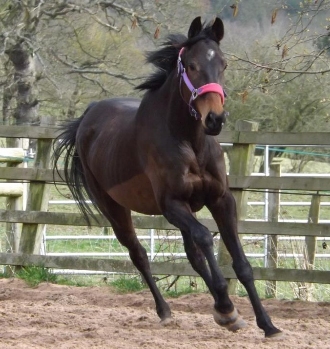 Jenny Choak - I would highly recommend Carole. My mare Bussel is a young horse who has issues with her pelvis, I think due to her racing background. Carole has worked wonders with her, very patient and definitely a calming influence. I'd recommend her work to anyone!
Yasmine Andrews-Beltran - Just thought I would say, I had carole out today to do my mares back and although hottie wasn't feeling very cooperative... to say the least, carole was very patient with her and did a fantastic job! I'd highly recommend her to anyone looking for someone to do their horseys back!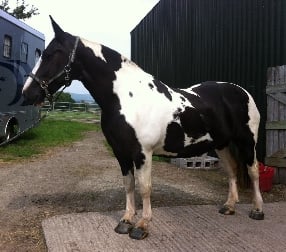 Teresa Basher - Thank you so much Chinks is not banana shaped any more and is moving straight and sound for the first time in two years, he will be doing lots of walking exercises to build up the muscles in the right place. Nanny McPhee is very flexible behind, no stiffness, full of beans and is doing collected canter on both reins on the right leg with no problems now.
Maia Firth - A big thank you to Carole for transforming my very stiff ex racer into a much happier, more flexible horse! When I first bought him my vet referred us to Carole as he was very tight along his back and would drop when you ran your fingers down his spine. This pain has now totally gone and he is already moving a lot better. She is extremely patient and knowledgeable, and Aus absolutely adores her - we'll definitely be long term clients!
Kathryn Brown - A quick recommendation to Carole McClelland who came out to my mare today at quite short notice and was very confident and calm around her despite my mare not being the easiest patient and one others have refused to treat! Looking forward to our next appointment, thank you!
Ashley Walls - I would definitely recommend Carole she explained everything so I understood what was happening and importantly Alfie loved her (doesn't really take to people he doesn't know). Saw a massive improvement in his movement and attitude towards his schooling/work. Will be using her again.
Kate - Highly recommend Carole, she came to see my very stroppy dales mare, who we have been told, was born with a slight deformity in her pastern, which makes her very stiff, tight and moody. One visit from Carole and she is walking much more freely, is less wary of her movements and generally a much happier pony! Many Thanks Carole will definatly be calling on you again Kate